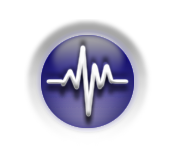 Welcome to SoundDog for Mac OS X
What does it do?
SoundDog is a simple QuickTime-based applescript droplet that acts as a sound inspector. It is designed to be placed in your folder toolbar so that you can quickly drag and drop any audio file(s) onto SoundDog's icon to hear playback and view a detailed description of the file.
Mac OS X 10.1 to 10.8
Utilizes QuickTime Player 7 and Applescript
Note: In OS X Snow Leopard, Lion, and Mountain Lion you must have the optional QuickTime 7 installed. Sounddog does not work with the limited functionality of QuickTime X.
Name
Path to File
Playtime
File Size
Audio Format, stereo or mono
Bit Depth
Sample Rate
File Type
File Creator
Data Type
Date Created
Date Modified
Download the disk image (288Kb). Mount it on your desktop and copy the application folder to the Applications Folder on your startup volume. For use in Finder Window toolbars merely drag the application icon into the Finder toolbar (hold it there for a moment until it slides into the bar), it will then appear in all (metal) Finder Windows. To uninstall merely command-drag or control-click on the icon to remove it from your toolbars.
Alternatively you can place it in your dock.
For PowerPC computers you will need SoundDog v1.03
Drag and Drop the audio file(s) in question onto the SoundDog icon in your toolbar and it will launch QuickTime to play the file and display its properties.
Click on 'Stop Playback' to halt playback, "Continue" to resume. Click on 'Close this Audio File' to close the display and the current QuickTime transport. If you have dropped multiple files clicking on 'Close' will then open the next file in sequence.
You can also use the QuickTime transport to control playback of the current file.
Version 1.04 - released Aug 2, 2012
Version 1.03 - released March 8, 2008
Version 1.02b - released July 25, 2006
Version 1.02 - released May 2, 2005

Tiger and QT7 compatiblity
added "File Path" to display
added "Continue" button to dialog
added multichannel info to "Format" display in QT7

Version 1.01 - released September 24, 2004

added file size to display
changed Time format to m and s

Version 1.0 - released August 26, 2004
QuickTime 6 users don't get "Path" information in display
SoundDog is limited by your QuickTime version. QT6 users can only playback and inspect audio files up to 48khz, while QT7 users can work with 192khz, 32bit multichannel audio.
apparent hang can be caused by "Get QuickTime Pro" dialog behind finder windows. Make QuickTime active and dismiss dialog.
SoundDog doesn't understand split-stereo files . . . sorry ProTools users.
Applescript routines for date format, and file size courtesy of Nigel Garvey
Icon design by Kevan Staples
Please email me to let me know of any difficulties you encounter, suggestions you have or just to say hi.
Jim Longo
August 2012

this page has been viewed 53996 times